Yesterday was a pretty productive day. I scanned and emailed a copy of the chapel information packet to send to my mom, and mailed her that along with a big awful picture of me and one of my company directors. They'll like it, I'm sure! The computers were down when I went to the post office, but apparently you don't need a special computer-generated sticker to mail an envelope under 13 ounces. Mine came in at 12, so for $3 it's on it's way. Thanks USPS!

After work, I drove to LA for a group meeting. I had bought a Wendy's meal with a side salad that I saved for dinner, but forgot it before I left. We worked until 10 and I got home at 11. I swear I think I was delirious at that point; you can only draw ERDs for so long! We also got nice certificates in the mail for completing the Disneyland half-marathon.

Today was a busy day also. I started the morning with a run, which went terribly because I haven't been running in almost 3 weeks (and the Pumpkin Run is next weekend, already!). Came home, had some morning-weekend coffee, and got ready to go on our LA adventure.

Andy got us tickets to a movie and had looked up a talk. First, we saw the Darjeeling Limited at the Arclight theater. It's at Hollywood and Vine, and sort of upscale - they have assigned seating. It was probably the nicest movie theater I've ever been in! We almost didn't make it because of the traffic / not really knowing where it was, but we ended up having 10 minutes to spare and time for hot dogs!

As for the movie, I'd heard plenty of good reviews and an interesting radio commercial. But the movie itself was, I hate to say, disappointing. I didn't think it was funny, and there were a lot of really sad parts. The scenery was beautiful and the acting was really good, though. As we were leaving, though, I swear I saw Doris Roberts at the box office.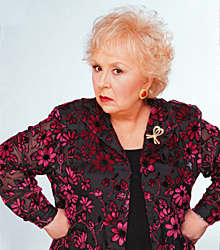 Next up was the Ayn Rand talk at the 50th anniversary of Atlas Shrugged exhibit. The lecture was pretty good and only 30 minutes, but the questions went on for over an hour. Unfortunately there were some real crazies too. On the other hand, it was neat to see some of the handwritten pages. By the way, I'd recommend the book; it's long but the story is great!

As we were leaving, a woman driving the Doris Roberts - lookalike in a hybrid Civic took our spot. We got Goody's pizza on the way home (the only place with pokey sticks!).